Religious Communities for Women
Chapter 12:
SISTERS OF THE FRATERNITY OF TRANSFIGURATION
Inspired by the example of Bishop Ghika, who died in Romanian prisons in 1954 for his fidelity to Rome, our Community dedicates itself to the return of separated Christians to Roman Unity. Our members offer themselves to hasten the time of this "Unum sint" (John 17, 21).
The Fraternity of Transfiguration is composed of two branches of religious, the Sisters are the auxiliaries of the Fathers, and both follow the same constitutions.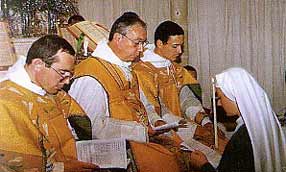 Ceremony of Profession
Founded in October 1985, the feminine branch of the Fraternity is now composed of 8 Sisters.  Part of their life consists in consecrating themselves to the service of God alone, by meditation, psalmody of the Divine Office, and Lectio Divina.  Another part consists in the practice the spiritual and corporal works of mercy, by catechism classes, visits to the sick and the elderly, patronages, camps, and welcoming groups at their hostel.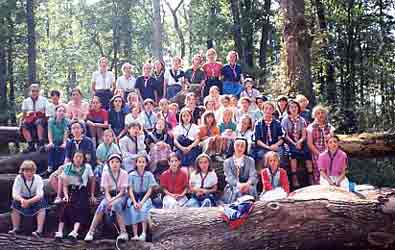 Apostolate with the Youth
The need and the care for exterior works however must not make us forget the primacy of the fundamental goal of all religious life, which consists precisely in the perfection of charity, of this union always more actual with God, the Sovereign Good.
The mystery of Transfiguration, rich mystery from which our Community is taking its inspiration, expresses perfectly the subordination of these two goals in religious life. All the consecrated life of the Sisters is summarized by this ascension to the Thabor, ascension that leads them to the contemplation of the Triune God, contemplation that they communicate afterward to souls in the valley.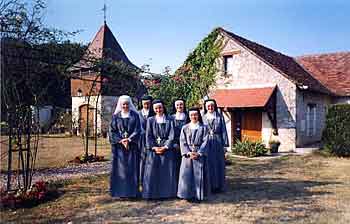 The Community
All this life is fulfilled according to the proper spirit of their Institute, which is this missionary zeal that incites them to work for the return of the lost Christians to the Unity of the Holy Church, which is Catholic, Apostolic, and Roman.
Rev. Mother Superior
Maison des Soeurs
11, Place de l'Église
F-36220 Mérigny
France
Tel: [33] 2 54 37 39 72