Newsletter of the District of Asia
Jul - Sep 2001
Brief history of the SSPX Mission in Sri Lanka
1984, August 19.  Fr Patrice Laroche, the SSPX Asian explorer, opened the Sri Lankan mission of the SSPX.
Until 1992, various SSPX priests, Fathers Fellay, Schmidberger, Simonot, and a few others stopped on occasion in Sri Lanka on their way to or from India (where the first SSPX priory was opened in 1986).
In 1992 with the opening of the priory in the Philippines, and due to difficulties in obtaining Indian visas, the Colombo Mission was attached to the Philippine priory. This was unfortunate because while the flight Colombo—Manila takes at least 8-9 hours as there are no direct flight, Colombo—Trivandrum (South India)on the other hand, takes only one hour!  The regular priest visiting the mission was at that time Fr. Roland de Merode, followed by Fr. Rostand.
1995, August 15. The St Francis Xavier Mission was officially opened with two resident priests, Frs. Arnaud Rostand and Luc Davodeau.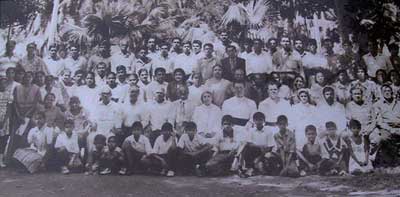 Farewell photo for Sri Lanka's First SSPX Prior, Fr. Arnaud Rostand.
To his left, Fr. Luc Davodeau, his successor, July 1998.
With the opening of the priory, the Sri Lankan Mission was assigned the care of the missions in Singapore and Malaysia in an increasing frequency (from twice a month to every Sunday).
Over the years, 4 young Singhalese men have tried their vocation, as brothers or seminarians.
The Society has had a fairly good apostolate in the Sri Lankan newspapers, with regular large articles (sometime half a page long).
Some Ignatian retreats have been given and a little Montessori school has been opened on the premises of the priory, which has (in 2001) 45 pupils between 3 and 5 years old.
A regular apostolate was performed for about 6 months in a local hospital but which had to be stopped when the local chaplain began to be active.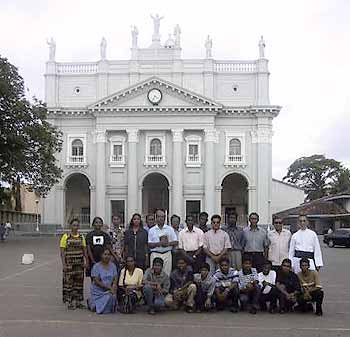 The SSPX faithful of Sri Lanka on a historical visit
to the tombs of the first Archbishops of Colombo, last August 26.
They are seen here at the Cathedral of Colombo.
2001, April.  A regular monthly Mass began in Colombo with 40-60 people in attendance.
Since the opening of the priory, besides the founding two priests, various priests have been assigned to the mission: Fathers Egli, Vachon, Loschi, Suresh, Maurel.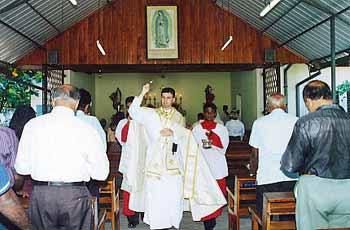 Fr Loschi, the 3rd Prior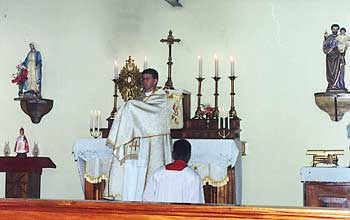 In May 2001, due to difficulties in the apostolate, to the need of reorganizing the priests, and to the opening of the Singapore priory (which needed a third priest), Bishop Fellay decided to temporarily close the priory, although maintaining the mission as a Mass Center with masses two Sundays per month.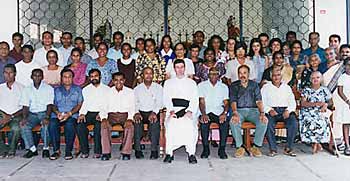 Farewell photo for Fr Loschi, May 21, 2001