Newsletter of the District of Asia
Jan - June 2004
Chronicle of the District of Asia
January – June 2004
January
Dec. 29 – Jan. 1 Indonesia A small three day Christmas camp for our youth group in Cebodas, Botanic Garden, near Jakarta, has strengthened their knowledge of Tradition. Many of them in the following weeks have stopped going to the new mass, seeing how it can damage their faith.
Philippines, Cebu The construction of a small church, dedicated to St Pius V, began.
12-13 India Fr. Couture gave a conference on Fatima in Trichy, South of Madras. On this occasion, contacts were made with a village of 5000 souls who are having difficulties with their Novus Ordo priest and who have shown serious interest in our work.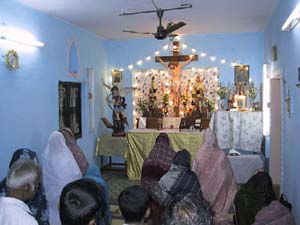 Trichy Mass Center

24 Sri Lanka Fr. Pagliarani organized a pilgrimage to the Shrine of St Ann, north of Colombo.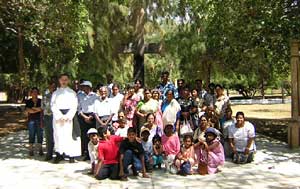 At St Ann's Shrine, in Sri Lanka
February
2 Winona, USA Dominic Vu, a Vietnamese seminarian whose family has greatly helped the District of Asia in its Missions to Vietnam, received the cassock. One of his two sisters is with the SSPX Sisters, the other with the French Benedictine Nuns of Lamairé.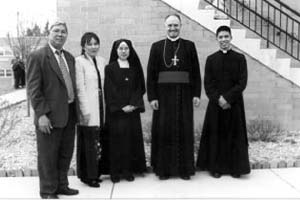 Mr & Mrs Thieu Vu, Vietnamese with their daughter, Sr. Mary Joachim
and their son, Dominic, proudly standing with Bishop Fellay.

8-22 Dr. Jean Pierre Dickès, President of ACIM (French Catholic Association of Doctors Nurses and Health Professionals) came with his lovely wife to tour Asia. First Singapore, then in the Philippines with the priests' session in Manila, followed by a Medical Mission near Tanay, and conferences in 5 Medical Universities: General Santos, two in Davao, Cagayan de Oro, Iloilo. All in all 23 hours of lectures! The topics covered included contraception, cloning, abortion, euthanasia, bioethics. As a result of this visit, we have opened an Asian branch of ACIM. It can be consulted at www.acim-asia.com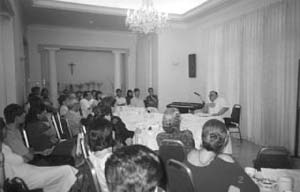 Conference on Bioethics in Singapore, Feb 8, 2004
by Dr. Jean - Pierre Dickès.

9-13 Philippines Priests' Doctrinal Session in Manila. 12 priests were present, including a military chaplain very attracted to Tradition.
14-16 Taiwan Fr. Pagliarani made a second visit (the first having been last November).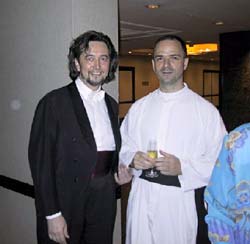 In Taiwan, Fr. Pagliarani with professional pianist and composer Peter Ritzen
who attends the Traditional Mass
March
3 Singapore Fr. Couture gave another lecture (his third) in the National University of Singapore (NUS) on the influence of Western Civilization in Japan in the Christian century (1549 – 1640).
10 Fr. Richard Vachon left Asia for Australia after working with us for the last six years in Manila, Sri Lanka, India and Singapore. He has now been assigned to the SSPX School in Tynong, near Melbourne, Australia.
10-22 The District Superior made a tour of the "Far East Missions" of the District: Hong Kong, Japan and South Korea. In Japan, he was able to visit our little mass center in Sapporo.
19 Philippines, Iloilo The construction of the church of Our Lady of Consolation, finally began.
19-21 Fr. Pagliarani made his apprenticeship of martyrdom with kidney stones.
23 Thailand On his way back from Korea, Fr. Couture stopped in Bangkok to inform Bishop Manat of the Rome Press Conference of Bishop Fellay of last Feb. 2.
26 Sister Mary Victorias, an Filipina Oblate of the SSPX, stopped for 10 days in Singapore, using this opportunity to join in the Women's retreat.
29 – April 3 Malaysia Women's retreat in Malacca, preached to 14 women by Frs. Couture and Adrian Wee, Carmelite.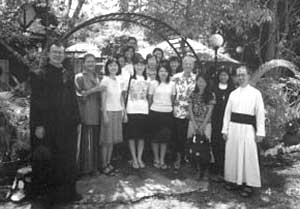 Women's Retreat in Malacca, March 29 - April 3, 2004,
preached by Fr. Adrian Wee Carmelite, and Fr. D. Couture.
April
7 Singapore Two young men, one from Bangkok, one from Hong Kong came to spend the Sacred Triduum at the Singapore Priory.
18 Browerville, USA Quasimodo Sunday: one Filipina, Sr. Maria Isabella, one Vietnamese, Sr. Mary Joachim made their first profession in the ranks of the SSPX Sisters. Two other Filipinas began their second year of noviciate.

Quasimodo Sunday, April 18, 2004, in Browerville, USA
at the Noviciate of the SSPX Sisters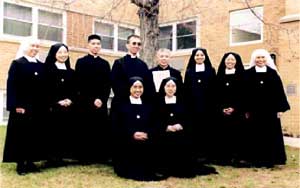 Quasimodo Sunday at the SSPX Sisters' Noviciate, USA:
Fr Couture, with the Asian Sisters, Rev. Fr. Vin Son, a Vietnamese priest,
and Dominic Vu, a Vietnamese seminarian.

Philippines During April and May, various retreats for men and women as well as summer camps for children were held in various parts of the Philippines.
May
1 France Sr. Diana, a Filipina, made her first profession in the Contemplative Dominicans of Avrillé, France.
20 -23 Philippines Third Annual Pilgrimage of the Youth of the Philippines from Tagbilaran to Carmen, Bohol. 135 pilgrims walked the 61 km, escorted by 5 priests. On the second day, the Catechism Contest was held again, for a second time. Three members of the Cristeros, Manila, saw their yearlong efforts rewarded in winning the first three prizes (1st: a plane ticket for Europe; 2nd: the set of 15 books The Liturgical Year, by Dom Gueranger; 3rd A missionary crucifix and the book The Passion).
27 - June 6 Fr. Onoda led a group of 6 Asian pilgrims to the Chartres-Montmartres Pilgrimage, in France.
June
6 -14 Singapore Fr. Onoda gave a welcomed hand in Singapore while both resident priests were away on mission.
15 India While there is yet no development with the village near Trichy (see Jan. 12-13 above), another parish, near Nagercoil, at the very Southern tip of India started to make contacts with our priests. They are 1500 families.
21 Singapore Fr. Adrian Wee, a young Carmelite priest from Malaysia, returned to Singapore after 10 months in the SSPX Seminary in Australia.
21 Philippines, Manila Opening of Our Lady of Victories primary school at our priory
29 India Valan Devasahayam, from Trichy, India, was ordained priest in Ecône, Switzerland, along with 9 others. He has been (temporarily) assigned in Australia. (With a priest ordained in England on July 17, the SSPX has ordained so far this year 16 new priests. Deo gratias!)
30 Asia Two American priests have been assigned to the District: Frs. Patrick Summers and Joseph Lester. They will be most welcomed, as the ' Harvest is great and the laborers (so) few' ! Fr. Summers will go to India, with Fr. Blute, and Fr. Lester to Manila.
Two Vietnamese monks in Our Lady of Guadalupe Monastery, Silver City, New Mexica, USA.
On the left, Br. Gabriel, on the right, Br. Emmanuel.