Newsletter of the District of Asia
Jan - June 2006
Chronicle of the District of Asia
December 2005 - April 2006

November 2005
28- Dec. 3 Singapore Men Retreat in nearby Batam, Indonesia, for 5 men.

December
2005
6-13 New Zealand The District Superior went for a first visit to this country which has been temporarily attached to the Asian District. The SSPX priory of Wanganui is certainly one of the truly beautiful ones of the Society, with a fairly krge quasi-parish of 400 (many living at walking distance from the lovely church in a charming suburban setting), a school of over 100 students, 3 zealous priests, 5 Teaching Dominican Sisters. The priory of Wanganui is also in charge of the Mission in New Caledonia, in the Pacific Islands.
14 - 30 Holy Cross Seminary, Australia Then Fr. Couture proceeded to Holy Cross Seminary, in Australia to preach the retreat to the future priests — 3 of which were Filipinos — and future deacons.
18-Jan.7 India Visit of Bishop Tissier de Mallerais in Madras, Palayamkottai and Christurajapuram. In this last village, the bishop was able to bless a beautiful church on Dec. 30.
27 Holy Cross Seminary, Australia Ordination to the priesthood of 4 priests, including 3 Filipinos: Frs. Albert Ghela, Roy Dolotina, and Gerald Fallarcuna. A small delegation had come from Singapore and the Philippines for the occasion.

January 2006
2-7 Singapore First retreat preached in Singapore itself. 13 women attended the retreat given on beautiful Sentosa Island.
7-8 Sri Lanka Visit of Bishop Tissier.
10-20 Philippines Visit of Fr. Marc Vernoy, who was once assigned in these missions. Father Vernoy came to see the newly ordained Filipino priests.
9-14 India The Nav Jeevan Orphanage finally moved from Andhra Pradesh in the center of the country to Palayamkottai, to be near the priory, in order to have the sacraments and the direction of the priests.
14 Singapore First Mass and blessing by Fr Albert Ghela, newly ordained priest. Fr. Ghek stopped in Singapore, on his way to Manila.
Philippines Throughout this month, the three newly ordained priests visited the various mass centers and offered their First Masses to the great joy of all the faithful. The three newly ordained have been assigned as following: Fr. Ghek in Santa Barbara, Iloilo, Fr. Dolotina in Our Lady of Victories, Manila, Fr. Fallarcuna, in Gomez Pakcio, Mexico.
22 Singapore Annual General Meeting of the Association to discuss among other matters, the purchase of a new priory.
28 Philippines Fr. Joseph Lester, the District Bursar, visited the priories for a week.

February 2006
3 Singapore Fr. Patrick Summers, prior of India, stopped over on his way to the Priests' Meeting in Manila.
6-10 Philippines Annual Priests Meeting, in Manila. Main speaker this year: Fr. Francois Laisney, prior of Wanganui, New Zealand, on the very interesting theme of St Augustine and the fight against the Danatists, with many applications for today's crisis.
17 -19 Japan Visit of Fr. Pagliarani on his way to Winona, USA for the US Priests' Meeting.
20-25 Singapore First Chinese -English Retreat preached by Fr. Wee and Fr. Couture to eight retreatants, four of which came from the USA.

March 2006
Philippines After almost six years laboring in his country since his priestly ordination, Fr. Carlo Magno Saa, was reassigned to Zimbabwe. May God be with him in this new apostolate. He is the third Filipino now working abroad: Fr. Salvador is in Gabon, Fr. Fakrcuna in Mexico.

April 2006
7-17 India Fr. Couture left for India to help the confreres with the Holy Week ceremonies. On Holy Saturday, eight of the orphans received the grace of baptism in Palayamkottai.
18 Singapore Short stop of Fr. Schmidberger on his way to Australia.
18 - 22 Philippines Visit of Fr. Benoit Wailliez, former novice master at the Santa Barbara Noviciate.
Philippines Various retreats and camps for the youth took place this month and in May.
May 2006
7 Singapore Powerful conference of Fr. Schmidberger on the mystery of St Peter and the present situation of the Society of St Pius X.
6-10 Philippines Formation Camp for 47 Apostles of Mary in Tagbikran, Bohol.
11-14 Philippines 5th Annual National Pilgrimage in Bohol. About 220 pilgrims from all over the Philippines came for this event which is gradually becoming the Filipino Chartres!
21-26 Malaysia Retreat for Women near Kuala Lumpur. Four young ladies from Sabah, East Malaysia attended the retreat for the first time. Fr. Jackson, from our Indian priory came to help Fr. Couture.

June 2006
4-9 Singapore Women's Retreat in nearby Batam for 12 retreatants (see picture below).
6-9 Sabah, East Malaysia Fr. Pagliarani went for a first official visit to this province, which is one of the few Malaysian states which doesn't have a Muslim ruler.
18 Sri Lanka Annual public procession of the Blessed Sacrament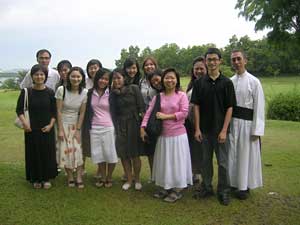 Batam Retreat