Newsletter of the District of Asia
Jan - April 2007
Chronicle of the District of Asia
December December 2006 - April 2007

December 2006
OSB, France Leonard Raaymakers, from Wanganui, NZ, went to Bellaigue to try his vocation.
3-8 Singapore Frs. Couture and Pfeiffer gave a men's retreat in neighboring Batam, Indonesia.
4-6 Iloilo, Philippines Visit of Fr. Ed McDonald SSPX, who came from Australia to visit the Carmelite Tertiaries.
13-22 Wanganui, New Zealand Retreat preached to the Dominican Sisters by Fr. Wailliez from Australia.
23 Argentina Ordination of the 8th Filipino priest of the SSPX, Fr. Fidel Ferrer. The District Superior went to the ordination to represent the ordinand's family (who could not come) and Asia for this important event. Fr. Ferrer has been assigned at the priory of Mendoza, in Argentina.
26 Wanganui, New Zealand Taking of the veil of Donna Powers, from Brisbane, under the name of Sr. Mary Ann.
27 Holy Cross, Australia Ordination of Fr. Michael Lavin, from New Zealand.
Jan. 21 Sr. M. Salome (left) and Sr. M. Remedios (right)

2007 - January
1-6 India Priests' retreat preached by Fr. Couture in the mountains where the temperature went down at night to 8o C. Quite a surprise for Tamil Nadu! The retreatants were actually cold!!
5-6 Kota Kinabalu, Malaysia First visit of Fr. Salvador to this northern part of the island of Borneo. It is a very promising mass center.
14 Manila Philippines First Mass of Fr. Fidel Ferrer
21 Salvan, Switzerland Sr. Mary Salome, our first and only Thai vocation so far pronounced her engagement in the Society's Oblates. During the same ceremony, Sr. Mary Remedios, from the Philippines, received her novice veil.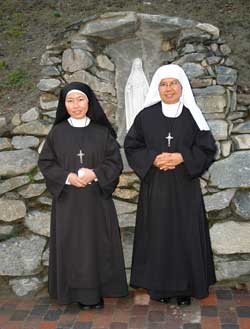 Jan. 21 Sr. M. Salome (left) and Sr. M. Remedios (right)

February
2 Singapore Launch of the 'Challenge Pledge Fund': US$100,000 to be matched by July 1.
5-9 Manila, Philippines Annual Priests' doctrinal session.
6 Wanganui, New Zealand First Mass of Fr. Lavin.
7 Wanganui, New Zealand Start of another academic year with a record of 130 students. (By the way, they are looking for teachers for both primary and secondary levels. Anyone interested should contact Fr. Laisney (see his address on p. 55)
8 Manila, Philippines Fr. Lavin arrived towards the end of the priestly session. He has been assigned at the Brothers' Novitiate in Iloilo. Mabuhay, Padre!
9-12 Iloilo, Philippines Visit of Fr. François Chazal SSPX, for a few days. Fr. Chazal is French and has been ministering in India for the last 3 years.
12 Singapore Mr. Dominic Vu, American-Vietnamese seminarian from Winona, came to spend a few months at the priory to help the priests.
15 Manila, Philippines Sr. Maria Concepcion, Oblate, from Mindanao, who has spend the last few years in the SSPX school in England and then in the Mother House in Switzerland, arrived in Manila for her new assignment at the House of Bethany. She will replace Sr. Maria Jacinta re-assigned to South Africa, where she has been in the past.
18 Ramanpudur, India Blessing of the new church dedicated to St Thomas the Apostle
18-24 India Retreat for the ladies of the Orphanage preached by Fr. Joe Pfeiffer : this experienced retreat master was actually nervous in preaching to these angelic souls!
23 Singapore His Excellency Bishop Fellay, accompanied by the Second General Assistant, Rev. Fr. Alain Nely, came to Singapore, to grace the 50th wedding anniversary of Mr. And Mrs Thomas Sumantri. Evening Conference to the faithful by Bishop Fellay. Fr. Wailliez, now assigned in Brisbane, Australia, stopped over coming back from a short vacation in Vietnam.
24 Singapore In the morning, baptism of a young Singaporean Buddhist man, Dominic Lim, and a Chinese Buddhist lady, Catherine Zhang (called after Bl. Kateri Tekakwitha, Mohawk Virgin). They received confirmation and their First Holy Communion also that day. Record number of confirmations: 29
25 Singapore Golden Wedding Anniversary of Mr. and Mrs. Thomas Sumantri who have been important providential instruments for the work of SSPX in Asia for almost 20 years, first from Hong Kong, then from Singapore. In the evening, Fr. Purdy arrived from the Philippines to meet the Superior General.
26 Singapore Fr. Pfeiffer stopped over arriving from India on his way to the Philippines.
27-28 New Caledonia First time ever for our Superior General to visit this French territory, which is now ministered to by the priests of New Zealand. The 28th was a very busy day: morning visit of the SSPX property, interview with newspapers and radio personnel, blessing of a house; in the afternoon, two baptisms, a two-hour conference to the faithful, confirmation for 30 faithful and Solemn High Mass attended by well over 100 people… It is a good thing our bishops are still young!

March
1 New Zealand Bishop Fellay gave confirmation to 8 in Auckland. 3 New Zealand Fr. François Laisney celebrated his silver jubilee of ordination in the presence of His Excellency, Bishop Fellay (who is also celebrating this year his own silver jubilee – they were ordained together!)
4 New Zealand Confirmation of 43 in Wanganui, followed by a impressive Pontifical Mass, a beautiful reception, and a three hour conference.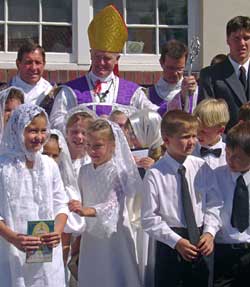 5 India A French lady, Mary Blanche, came to the orphanage to fill in for Miss Swarna who should be going soon to Italy for her one-year religious formation with the Consoling Sisters of the Sacred Heart.
5-8 New Zealand While Bishop Fellay went to Fiji with Fr. Nely, Fr. Couture stayed back to spend more time with the priests and the faithful
7 Holy Cross Seminary, Australia 7 seminary vocations from Asia have shown up for the start of the new academic year: 3 Filipinos, 2 New Zealanders, 1 Japanese, 1 Indian. 3 of them were accepted in the first year, the other four in the pre- seminary. In the first year we also must add another Filipino who did his pre- seminary last year.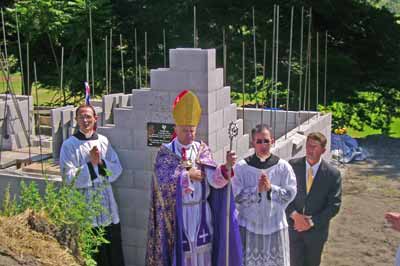 March 4 Blessing of the corner plaque of the future convent of the Dominican Sisters
17 Avrillé, France/Japan Mr. Petro Kobayashi received his religious habit in the Dominican Order. He is now called "Brother Nishi" from St Thomas NISHI, a Japanese Dominican priest martyr (1590?1634).
25 St Bernard Noviciate, Philippines Two more youths were vested in the SSPX brothers' habit and started their canonical noviciate: Ramil Logroño, from Carmen, Bohol and Alfonso Saberon from Marbel.
26-28 Taiwan The seed planted by Fr. Pagliarani a few years ago in two short visits to this island has started to grow. At the request of some faithful, Fr. Couture went for this third trip. Divine Providence arranged it in such a way that on the previous Sunday, March 25, the Holy Mass was announced in the very weekly bulletin of the Cathedral of Taipei (!), and Father was able to celebrate the Holy Sacrifice in the side chapel of the Holy Family Cathedral on the following Tuesday for about 25 people. Promising…

April
8 New Zealand Easter Sunday. Launch of another 'Challenge Pledge Fund' of NZ$200,000 (about USD$142,000) to motivate the faithful and benefactors to give their utmost at this stage of construction of the school and of the convent.
9 Singapore Marriage of the young couple who got baptized and confirmed in February.
10 Sri Lanka Opening of the Second Tsunami village, 'Maria Sevena - Mary's Domain', towards which the SSPX played a major role. Fr. Couture went to this ceremony and was publicly thanked by the Archbishop of Colombo who also attended the event. A plaque bearing the name of the SSPX was unveiled on this occasion. This ends the Tsunami Relief funds started in January 2005: a total of US$454,778 has been received in two years, and the sum of $462,518 has been donated to this charitable cause. Thanks again to all who have contributed so generously.
12 India Fr. Patrick Summers, after almost three years of apostolate, first as assistant then as prior, was given a few 'sabbatical' months in lovely Switzerland to recover his health before going back to the battle field… He will be replaced temporarily by priests from Singapore, Frs. Couture and Salvador, until a new prior is appointed.
12 Singapore Mr. Dominic Vu left the priory to go back to the USA.
15 Browerville, USA Maricel Balili, Filipina, began her novitiate with the SSPX Sisters, with her new name of Sr. Mary Monica.
18 Manila, Philippines Sr. Maria Jacinta left the House of Bethany for South Africa.
19 India Fr. Salvador left for India to replace Fr Summers.
27-May 9 Korea and Japan Fr. Couture went to visit these missions for a two week period. It will include a visit to Nagasaki, formally the headquarters of the Hidden Christians (1640-1860), and a kind of pilgrimage in the foot steps of Dr. Takashi Nagai who gave an heroic example of Catholic resignation and surrender to the mysterious will of God Who allowed the tragic events of 1945 to take place. His biography, 'A Song for Nagasaki', by Paul Glynn, is extremely edifying and can be found second-hand.