Newsletter of the District of Asia
Apr - Sep 2002
10th Anniversary Photo Album
1992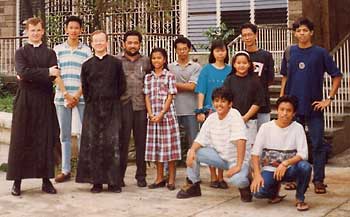 1. August, 18, 1992.
Fathers Paul Morgan (far left) and Stephen Abraham (3rd from left), both Englishmen,
arrived in Manila as the Founding Fathers of this new mission.
Standing at the far right can be recognized a very young Emerson Salvador
who will be the second Filipino priest of the SSPX, ordained in 1999, now assigned in Singapore.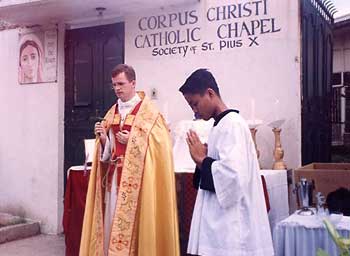 2. The first priory in Manila, in Kabignayan, Banawe.
It was a rented house, giving the priests time to know their territory better and to scout for a good property.
3. Fr. Abraham, will remain famous among the faithful for daring to eat "Balut"
a Filipino delicacy consisting of a young duck foetus.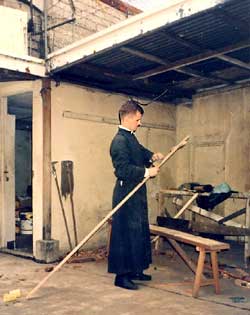 4. Father Morgan, understanding well his new role,
revealed his carpentry's skills and made his first processional cross.