Newsletter of the District of Asia
Apr - Sep 2002
10th Anniversary Photo Album
1996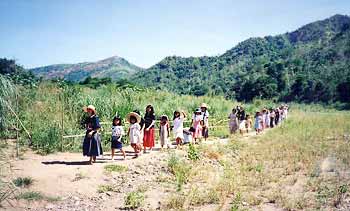 45. Summer camp for girls in Montalban, North East of Manila. (May)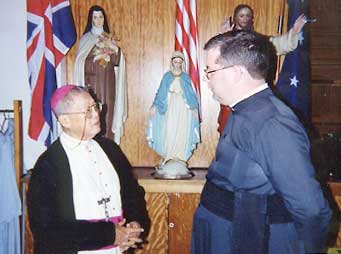 46. Bishop Lazo, now fully convinced of the position of Archbishop Lefebvre,
began to accept invitations to witness to his conversion to Tradition.
He is here seen in Sydney, Australia, with Fr Jean Violette, District Superior. (May)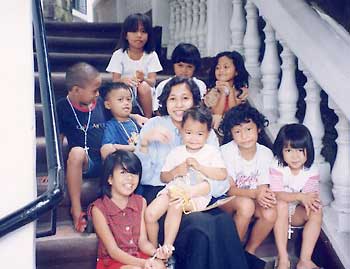 47. As children have to be separated in various groups for their catechism,
and as there are never enough room for all the groups,
the staircase was good enough for Marinela and her bambinos! Marinela is now Sr. Colombe,
the 1st Filipina with the traditional Contemplative Dominican Sisters, in Avrillé, France.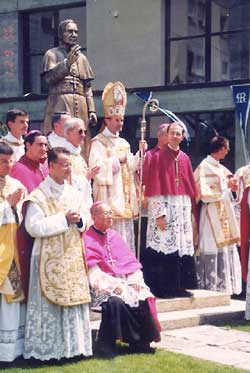 48. Bishop Lazo assisting at the ordinations in Ecône. (June)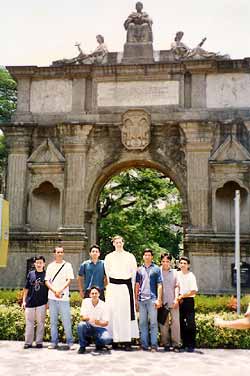 49. In August, Fr. Michael McMahon, American, newly ordained, arrived.
He was put in charge of the pre-seminary.
He is seen here with the pre-seminarians, on a visit to the University of Santo Tomas.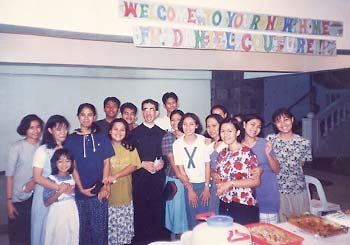 50. In September, Fr. Morgan left the Philippines to take responsibility of the SSPX's school in England.
He was replaced by Canadian Fr. Daniel Couture who had been in Ireland previously.
Fr. Couture was received with a joyful big bang. It was September 11.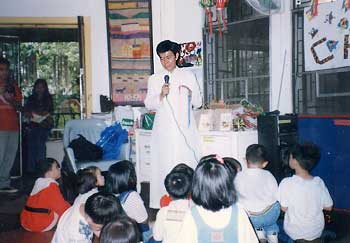 51. Our Lady's answer to a spiritual bouquet of 2 million Hail Marys done in October was,
on November 4, the gift of a Filipino priest: Fr. Santiago Hughes, from the diocese of Antipolo.